But those masses are campfires.
It's Friday, everyone, and we've made it to the end of the week. And with the successful launch of Perseverance yesterday, this post from xkcd made a lot of sense. For those that don't enjoy astronomy, basically stars have habitable zones, or sometimes the Goldilocks zone, around the star where planets would likely be neither too hot nor too cold for liquid water to form on the surface of orbiting planets. And since life as we presently know it requires water, it makes sense that these zones are where we focus our attention in studies of exoplanets.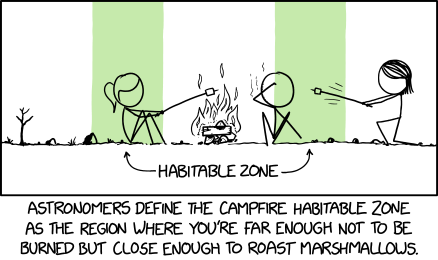 Credit for the piece goes to Randall Munroe.