Happy Friday, all. Apologies for the lack of posting yesterday, I wasn't feeling well and sitting in front of my computer typing stuff up wasn't happening. But now the weekend is nearly upon us and to get in the mood I wanted to share this great dot plot from xkcd. It captures something I've definitely been thinking about.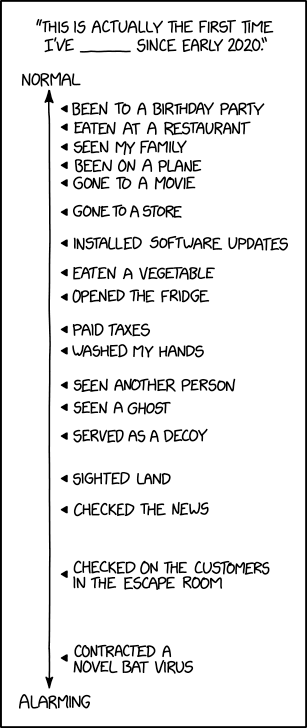 For example, on 3 March 2020, I had a friend over to my flat for drinks and to watch the Super Tuesday Democratic primary results come in. Tomorrow, if all goes according to plan, will be the first time I've had company over in 15 months.
In essence we have check boxes of the normal things we did in the before times and we're just checking them off one by one until we can feel normal again.
Just please don't contract a novel bat virus again.
Credit for the piece goes to Randall Munroe.