As many of my long-time readers know, I count genealogy as one of my hobbies. A few weeks ago for Orthodox Easter I travelled up to the hometown of my late grandfather. There I get to see people to whom I'm related as many of us can point to ancestors from the same few villages in a small geographic cluster in the Carpathian Mountains of Slovakia and Poland. In other words, we're all cousins.
But as xkcd shows, so are we all. And that means you too, cousin.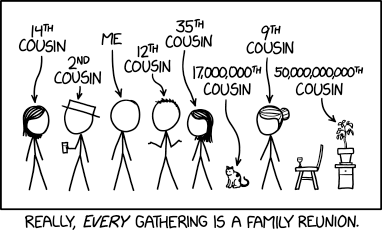 Happy weekend, cuz.
Credit for the piece goes to Randall Munroe.